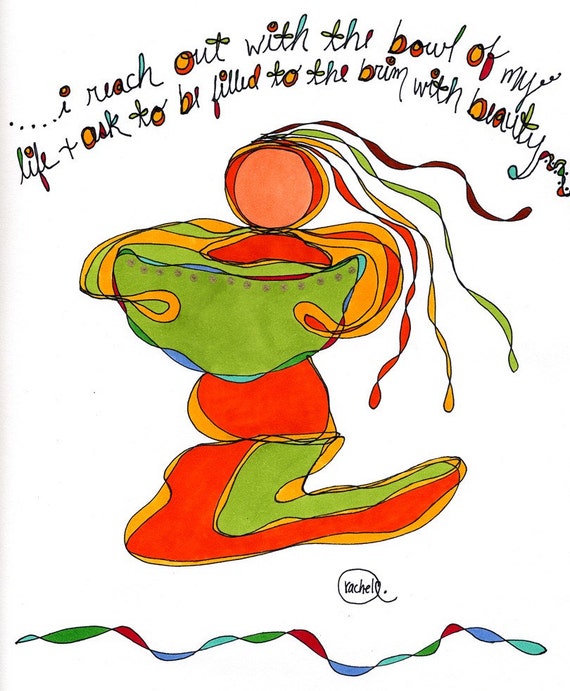 This piece challenges me to think about what beauty means to me and what I would want the bowl of my life to be filled with. My life's beauty includes my family and friends. I imagine a big bowl filled with all of their love, our shared memories and how good it feels to walk through life with them.
I met another blog friend and before you ask, no I did not drag her to a baseball game. You might be inclined to think I would seeing as this is how I spent my time with
Claire
,
Micaela,
Marianne
and
Ezgi
in
California
and with Meghan in
Chicago.
I learned that I was going to a conference in Minneapolis on the same day that I was rifling through some old snail mail. I stopped to take a look at an envelope that the creative
Rachel Awe
s had sent me when I had purchased some of her
uplifting art from her Etsy shop.
It dawned on me that she lived in Saint Paul, twin city to Minneapolis. I asked her if she would like to meet and we set a date!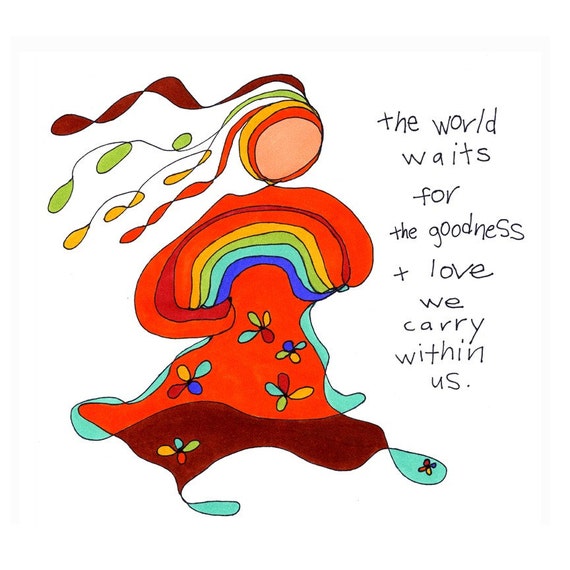 I used to think of rainbows as the reward worth riding out a storm for. Much like a baby being the reward after a long pregnancy and birth (or so I've heard from gushing new mommies.) When I saw this piece, it reminded me that within us all is a goodness that we can access at any time. There doesn't need to be a reason or a trial or a hardship to be triumphant with goodness. We are goodness now. Thank you Rachel for capturing this feeling in a beautiful image.
Rachel and I were all smiles when we met.
Rachel and I.
It was comfortably strange and wonderful to be sitting across from Rachel. Her art and words had been speaking to my heart over the internet for a few years and there we were getting to know each other in a different way, outside of our blogs. I hadn't really thought through what meeting Rachel was going to be like and I wasn't sure what we would talk about. I had no anxiety around it, I was just excited to see all her colour in real life.
Rachel and I had a great chat about the loves in our life. I spoke of my family, friends, my work and my Earvin. She spoke of her children and her husband. We also talked about our "former lives." Below, Rachel poses for a hand shot. She used to be a hand model. Who knew?
Supermodel work!
I also told Rachel about my days singing professionally and the decision to move on from that lifestyle in my early 20s. That lead to a really great discussion about music and somehow we started talking about duets. Both of us LOVE duets. I've thought about my conversation with Rachel many times. I felt very at ease with her and though we didn't spend a lot of time together, I loved the richness of our interaction. It was in essence, a duet. Not surprising since both our life's work involves connecting with others in meaningful and transformational ways.

Thankful to have met you Rachel. Thanks for bringing your art, colour, love, kindness, light and and friendship to my life. I hope our paths will lead us to another duet.